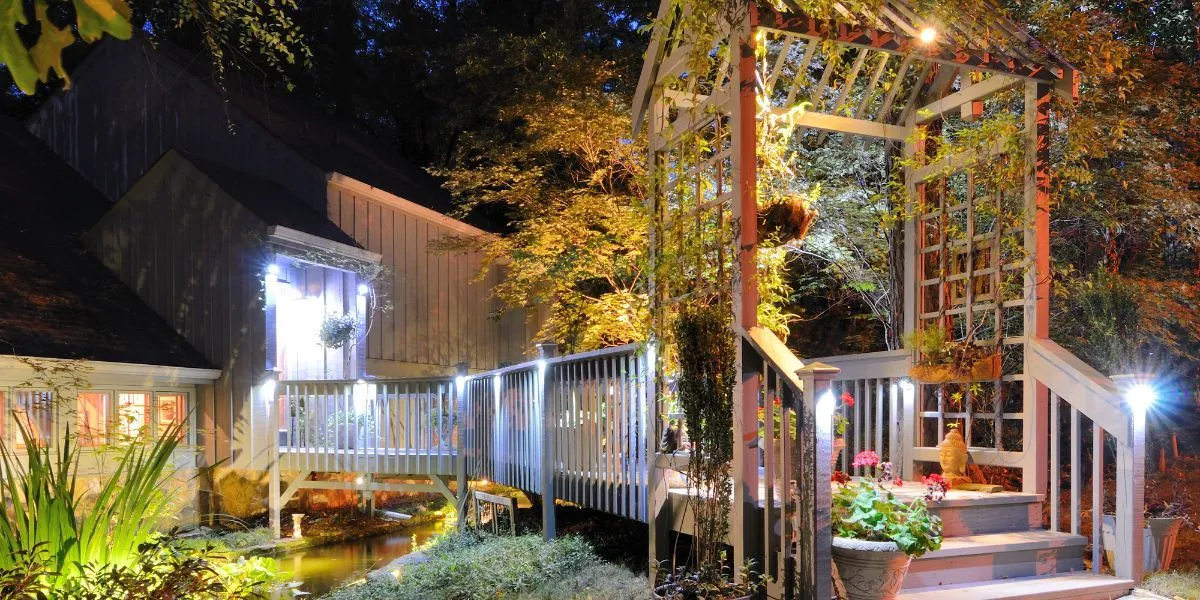 The Electrical LED Lighting Services Orlando, FL Relies On
Price Matching
Discounts and Warranties
30+ Years of Experience
Hours: Closed • Opens 08:00 am
Go Green With LED Lighting
LED (Light Emitting Diode): a two-lead semiconductor light source. It is a basic pin-junction diode which emits light when activated. When a fitting voltage is applied to the leads, electrons are able to recombine with electron holes within the device, releasing energy in the form of photons. This effect is called electroluminescence, and the color of the light (corresponding to the energy of the photon) is determined by the energy band gap of the semiconductor.
LED lighting is by far the greenest form of electrically powered lighting on the planet. Technology is improving in ways such as actual sunlight-powered interior lighting. By using mirrors on the roofs of large buildings, companies are now able to capture and disperse sunlight via fiber optic cabling to sunlight light fixtures throughout buildings. It is very new technology and somewhat costly. For now, LED is by far the best and greenest way to go, and here is why.
Your typical LED par 30 light bulb, which would be comparable to the 60 watt par 30 incandescent light bulbs (typical recessed lighting), draws around 5 watts. That is 12 times the reduction just in consumption. Another thing to note: LED lighting does not burn a filament as with incandescent lighting, which creates very high heat. This added heat from lighting throughout your home increases your costs to cool the home and it is not an efficient way to heat your home either. LED lighting radiates very low to no heat at all.
Oh, but there is one more reason that LED lighting is the most cost effective. The typical life of an LED is 50,000 hours. If your lights stayed on for 24 hours a day, that would be 5.71 years before you have to change them. We tell our customers that their lights should last for 20 years and warranty them upon installation for 5 years.
In Phaze Electric Inc can help set you up with the most cost effective and greenest option available.
Lower your home temperature 1 degree, saving you 1 hour of run time on your A/C per day due to no heat radiating from the LED lighting.
Stop replacing filament bulbs every 1,500 hours at $7.00 per bulb and have an LED light that is maintenance free for 20 years.
Stop spending 12 times the cost of electricity to run your old light bulbs.
CFL (Compact Fluorescent) light bulbs may cut back 2/3 the cost of the filament light bulb, but in the long run, CFL lighting, like any fluorescent lighting, has traces of Mercury and other harmful products in it. We are not just a green company for saving you money. As the commercial and residential electrician Winter Springs, FL relies on, In Phaze Electric truly cares about the future of our planet, and we do all we can to minimize our effects on the planet in as many ways as possible.
If you are interested in home LED lighting installation, give In Phaze Electric a call today. We specialize in the installation of LED lighting and would be more than happy to help you make your home a little greener.
Security Lighting and Nighttime Beautification
Security lighting: In some cases security lighting on a home is a necessity depending on the crime rate or neighborhood break-ins. With a lower income level and higher unemployment, crime tends to rise. Crime is unfortunate, but by being prepared and having a deterrent such as motion-activated flood lights, your chances of a break-in are highly unlikely. Many businesses also utilize exterio- switched or motion-security lighting on areas such as back doors or dark parking lots where employees may be entering and leaving the place of business in the dark.
The cost of a flood light can range anywhere from as low as $20, to as high as $300. There are also many types of exterior flood lights that can have one or all options mentioned below.
Motion-activated security lighting: Motion-activated exterior flood lights can be operated via a switch or multiple switches throughout the home or business to control power to the flood light. If power is applied to the fixture and any person or animal moves within the radius of the flood light, it will activate and come on brightly.
Dusk to dawn timed security lighting: This option is recommended if you intend on lighting the exterior perimeter or a portion of your home with a dim, low-lit light. Most dusk to dawn exterior lighting has a setting to turn on the low lighting at dark and have it stay on for 2 hours, 5 hours, or all night. The times usually vary from fixture to fixture. With the switches on to the fixtures and when the light is dim, most fixtures have motion activation that will trigger the light to go to full brightness. For security reasons, you will find that criminals are much less likely to target a home that is lit all night, but if they do, they will find themselves in the brightly lit spotlight once they approach the home or business.
Motion-activated radius: All motion-activated flood lights have a radius range built in from the factory. Some fixtures have a radius of 180 degrees, and others have a range of as much as 270 degrees. It is advised that you consult the residential electrician Winter Springs, FL depends on for proper design based on your specific needs.
Lamp brightness and ease of maintenance: The lamp that is used in exterior flood lighting can vary from halogen to LED, incandescent, and a few others. LED lighting is by far the best route to go. LED lighting lasts longer than any other lamp style currently on the market with manufacturer warranties as far out as 20 years. Be sure to check the warranty information on any lighting product you purchase. Some forms of lighting, such as halogen, should be installed by a professional due to hazards of improper installation.
If designed properly, your home can be protected on all sides from intrusion. If security is not the priority, but rather the need of visibility at night for the kids playing in the backyard or the dog going on his late-night potty stroll, then maybe one or two exterior motion-activated flood lights on the rear of the home are just what you need. The cost of installation is reasonable and is a task that In Phaze Electric completes more than once a week. Flood lights are one of our top 5 sellers in Central Florida.
Landscape/accent lighting: Landscape lighting and exterior accent lighting can be designed in such a way that you will see your home transformed overnight. There are numerous types of exterior landscape and accent lighting. Below is a list of the most common exterior lights.
Landscape lighting: Landscape lighting consists of beautifying the architectural landscaping around your home. Landscape lighting is meant to light up walkways, trees, flagpoles, shrubbery, driveways and so on. There are generally two types of landscape lighting on the market.
Low and High Voltage
Low voltage: Low-voltage landscape lighting does not mean less money on your electric bill. It is more for safety than anything. 120 volts are typically fed to a transformer that is rated for a certain amount of watts. The transformer reduces the voltage from 120 volts to 24 volts, and it typically houses a photocell which is activated and switches the lighting on when low sunlight is present. The price range of low-voltage landscape lighting can range dramatically. It is advised to research the type of landscape lighting you desire prior to calling the residential electrician Winter Springs, FL loves to design the layout and installation.
High voltage: High-voltage lighting is very similar in characteristics to low-voltage landscape lighting. Typically, landscape lighting for a home is 120 volts and is operated by mechanical time clocks, photocells and/or switches, or a combination of all. The advantage of high-voltage landscape lighting is the typical ease and lack of maintenance. We have found that 120 volt (high-voltage) landscape lighting systems last longer over time and are easier to maintain. Low-voltage lighting seems to be higher maintenance and has more problems in the long run.
More Security and Exterior Lighting Options
Coach lights: Coach lights are the lights that are mounted next to garage doors or other entry doors around your home. In Phaze Electric has installed numerous coach lights in Central Florida. Some coach lights are now built with a dusk-to dawn motion activated device that will keep the fixture dimly lit at whatever setting you choose but will come on brightly no matter the setting if motion is detected. These lights work particularly well on dark driveways and entry points to the home.
Security lighting: Security lighting was detailed at the top of the page.
Post lights: Post lights are typically installed in the front or back yard. They consist of one pole and a light mounted on top of the pole and are usually switched from the front or back door. Installation of post lights can be tricky at times depending on the architecture of your home and the distance to the fixture. Keep in mind that no wire can be exposed, so the wiring to the fixture will need to be directly buried using type UF wire or installed in conduit. Typical installations can range from $300 up to $800 depending on the circumstances.
Soffit lighting: You do not see many homes with lighting in the soffit, but it takes the exterior look of the home at night to a whole new level. Small lights are evenly spaced and installed typically on the front side of the home. All types of lamps can be installed, but once again, LED lighting is highly recommended. These lights are typically switched from the front door area and are dimmable and can be installed using an interior in-wall timer.
As you can see, there are numerous ways to light up the exterior of your home or business with accent lighting and landscape lighting. Our team of professionals is knowledgeable and equipped to design and install any type of exterior lighting that you have in mind. Also keep in mind that all of the lighting just described can be controlled right from a touch of your phone. Give us a call for a free estimate.
Landscape Lighting
There are practical and aesthetic reasons for creating a landscape lighting design for your home or business. Exterior landscape lighting increases the security and safety of your property while providing additional curb appeal at night.
Having landscape lighting will increase the usability of your outdoor spaces and decrease the chances of trips and falls. It adds a welcoming touch for guests or clients who visit your home or office in the evening. Lighting also helps discourage crime.
There are many ways to install landscape lighting. Maybe you want to light up a sidewalk or walkway, a garden or the backyard, or maybe you want to highlight an architectural feature. In Phaze Electric Inc. can install landscape lighting to achieve your goals. Let us come out and give you some ideas and a quote. You may be surprised at just how inexpensive the project can be.
There are Three Major Types of Landscape Lighting
High-volt – 120 to 220 volt systems
Low volt – 12 volt systems
Solar- No voltage and absorbs sunlight throughout the day and lights at night
If you're thinking of installing landscape lighting or upgrading your current system, there are many things to consider, and there are pros and cons to each types of system.
High-voltage systems like LED high volt systems are bright and best for large areas that need security lighting. They require fewer fixtures, have fewer electrical parts to malfunction, and no transformer is required because they draw power from your home or business's electrical supply. Typically, they last longer than other systems. Because of the high power involved, all wires and connections must be installed to code. In some cases, permits may be needed.
Low-voltage systems, such as LED outdoor landscape lighting, use less electricity, so they can save you money as well as offer energy savings. LEDs are considered an eco-friendly landscaping choice because they're free of toxic elements like mercury. The main advantage of low voltage lighting is that its low voltage allows the filament of the light bulb to be smaller, and this allows users to put lighting applications in smaller places. Note that you do need a transformer.
Solar landscape lighting is unique. Thanks to advances in solar landscape lighting technologies, harnessing the sun's rays to illuminate your landscape is a viable option that requires no wires, transformers, or timers. The solar landscape lighting absorbs sunlight all day, and at night the lights burn till all the energy is used. This is typically an inexpensive option that can be great for accent lighting. We'll help you determine which is best for your situation. In addition to landscape lighting for aesthetics, we recommend motion security flood lights on each corner of your home since burglars are less likely to target a well-lit home.
In Phaze Electrical provides electrical service in Orlando, FL and surrounding areas. Call us today (407) 794-2926 for your landscape lighting installation and see how it can light up your home or business and transform the way it looks at night.
Get Lighting Services From Our Master Electrician
Ask About Our Discounts and One-Year Warranties
(407) 794-2926
I wish that all companies I contacted were as responsive and helpful as this one was. They contacted me very quickly after I had submitted an online request and were able to schedule me the next day. They even showed up early for the appointment. Carlos and Santiago were not only professional but very helpful in quickly diagnosing the issues with my breaker. I will definitely be using this company for any future electrical issues.
- And God Spoke, Google Reviews